Posted on Thursday, July 28, 2022 10:04 AM
The Municipality of Greenstone held the windups for the 2022 Youth Baseball Season in Geraldton and Longlac on Tuesday, July, 26. This year we had 133 participants and 18 volunteer coaches. The program ran for 8 weeks.
A huge thank you goes out to all of the volunteers that made this program possible and fun for local youth!
Volunteers for Longlac:
Renee, Mitch, Brent, Miguel, Phanie, Sarah, Jeremy, Jemma and Albert
Volunteers for Geraldton:
Doug, Dan, Alyssa, Ryan, Leslie, Chris, Colin, Kaitlyn...
Posted on Monday, July 11, 2022 08:47 AM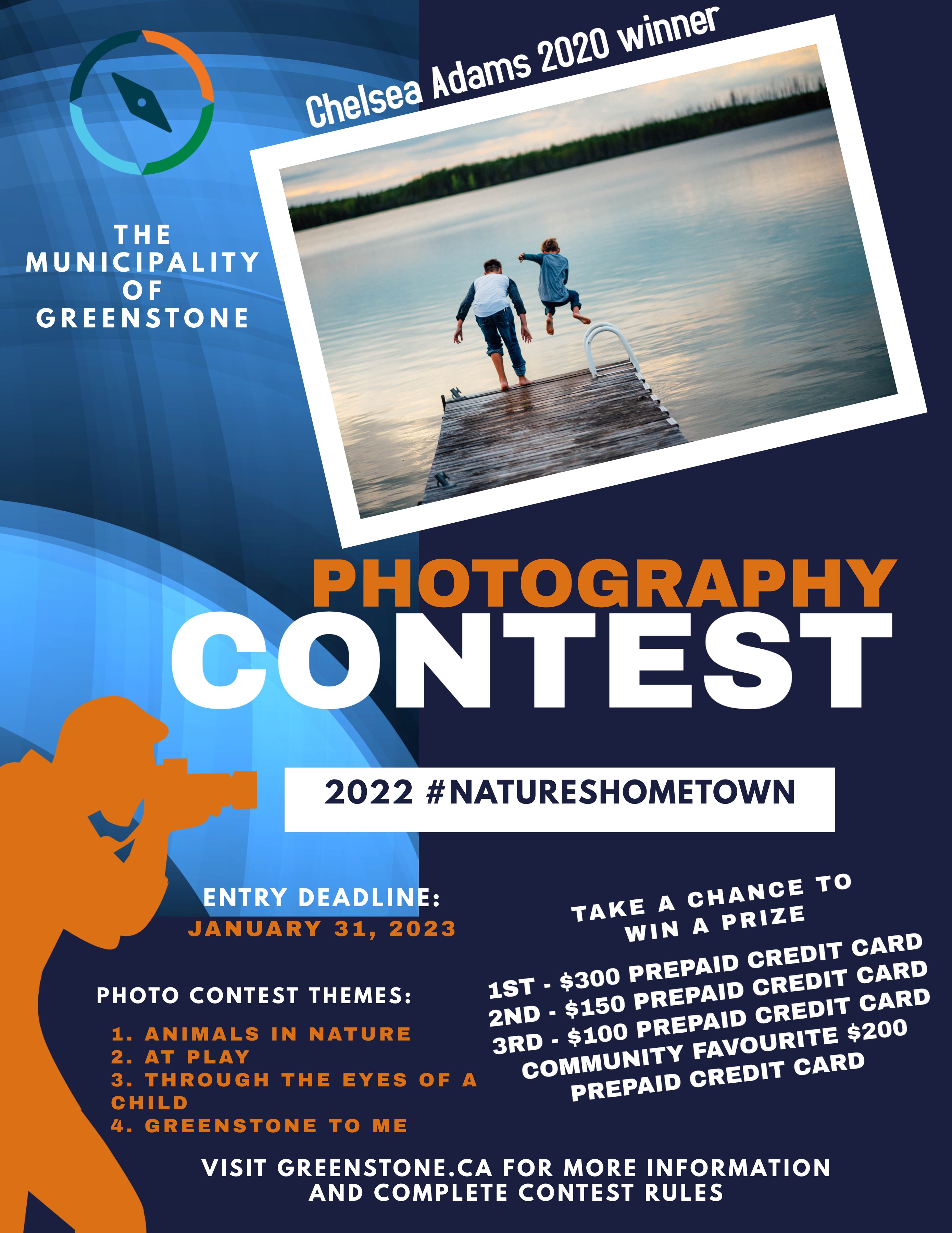 Posted on Wednesday, July 06, 2022 10:57 AM
The Municipality of Greenstone is pleased to announce the 2022/2023 Nature's Home Town Photo Contest! We look forward to entries from all seasons and encourage residents to explore the outdoors and connect with nature.
All residents of the Municipality of Greenstone, aged 18 and over, are welcome to submit a photo in each of the four categories listed below:
animals in nature
Photos of local wildlife or a household pet enjoying nature (always respect wildlife and remain a safe distance...
Posted on Friday, June 10, 2022 04:20 PM
The Municipal Property Assessment Corporation (MPAC) is responsible for collecting the information of residents in Ontario (name, date of birth, citizenship and school support) in order to create a Preliminary List of Electors for municipal and school board elections. Municipalities will use the Preliminary List of Electors to prepare their Voters Lists for the 2022 Municipal and School Board Elections.
One of the ways MPAC collects this information is through voterlookup.ca. Here, Ontarians can...
Posted on Wednesday, May 25, 2022 01:06 PM
At the Tuesday, May 24, 2022 Regular Meeting of Council, Council approved By-Law 22-50, being a by-law to adopt the budget (estimates of revenues and expenditures) for tax supported purposes for the year 2022.
The final budget as approved includes a 4.24% levy increase to generate $16,342,404. Of this increase, 3.11% is from external sources such as policing, insurance, EMS, Thunder Bay District Social Services, and the Thunder Bay District Health Unit. The budget includes approximately $10.4...